PLANNING YOUR FIRST HOME? HOW TO CREATE THE PERFECT SPACE FOR A YOUNG FAMILY.
Published in thejournal.ie Thursday 8 April 2021
FOR MANY PEOPLE buying their first home, the first step is to draw up a list of what they need.
But if you are planning to have children – or have a young family already – this comes with an additional complication: Your needs are likely to change radically over the coming years. So how can you make sure that you choose a home that will accommodate that?
"When buying a property, there has to be some consideration for the lifecycle of the house," says Josh Maguire, Director of The House Architects. "Most people who are buying their first house, they haven't had kids yet or they're just about to have kids. It's important for them to know that the evolution of what's actually required for family living changes over time."
So how can you make sure that the layout of the home you buy this year will still work for your family in two, five or ten years' time? Josh shared his expert advice.
Remember the importance of having separate living spaces
While open plan layouts offer numerous benefits for young families, Josh says it's just as important to also have spaces that can be closed off.
"An open plan kitchen and dining area is essential, especially for families so you can keep a watchful eye over the young kids," he says. "A connection to a living room or lounge is a bonus, but it's also crucial that you can close this off and that you can have separation so that you can have two different things going on.
When children are younger, you need it for separation between adults and children at some point, but also when children get a little bit older you need separate space for the teenagers and the adults.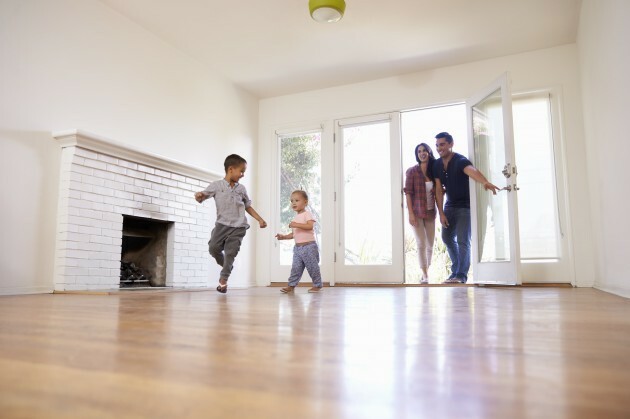 Source: Shutterstock
Choose layouts that will make everyday life easier
While it's easy to focus on the rooms that you'll spend the most time in, Josh highlights the importance of paying attention to other spaces you'll use on a daily basis. "A spacious hallway is important for the years when you have buggies and prams and things like that to deal with.
"Most modern houses will have a downstairs WC, and that's absolutely essential. It's often associated with visitors to the house, but you've also got potty training and things like that to consider down the line. Having a toilet where you don't always have to go upstairs is really important."
Keep steps to a minimum
The main living area and kitchen often opens directly to the rear garden in modern homes, but Josh points out the importance of the size of the level change between the two. "The simple connection to the garden is crucial because young kids are going to be half out in the garden during the summer months, and you want to be able to still work in the kitchen while keeping an eye on them and to let them come and go," he says.
"That level change between those connections inside or outside should be as minimal as possible. Most modern houses have fairly low thresholds compared to older houses, and that makes them safer, really, with children going in and out."
And don't forget about side access, either. "Side or rear access is very important. Bikes may not be used from day one, but they will be there when the kids start growing up and side access, if it's available, is a really important bonus."
Look at the potential to extend
While you may not be planning on having any building work done straight away, Josh recommends thinking about how your family's needs may change in the future. "The ability to extend the house is really important. So whether the attic can be converted, whether there's scope in the garden to expand, these things are worth considering.
"If you have the first 10 years on the horizon, that works up to the age of 10. That may be fine, but maybe after that you'll want to look at getting a bit more space."
Source: Shutterstock
Be smart with storeys
"With bedrooms, the traditional two-storey home has the benefit of everyone sleeping on the same floor," says Josh. "Obviously expanding into an attic will make it three-storeys, but also a lot of a new builds are three storeys, so you need to consider whether it's the right fit for your family in terms of children's ages. If you have parents sleeping on different floor to the children, in a lot of cases that will work, but you just need to give it some consideration."
Josh also highlights the benefits of having bedrooms with space to add different functions over time. "You'll almost certainly want room in the bedrooms for study," he says.
It may not be an immediate priority when the children are under five, but you need to think in terms of the horizon.
Avoid the DIY fixer-upper trap
If your dream home requires having construction work done, or you plan on carrying out renovations or upgrades yourself, Josh advises being smart with organising the logistics.
"DIY fixer-uppers are not really a great fit for young family because construction work is pretty messy and pretty disruptive. For a family getting a second hand house, you're much better off to go the whole hog and get that construction work done before you move in.
"Also, if you move into a house that needs work done, you need to factor in the cost of moving out and renting while the work is being done."
Think about quality of life
While you're likely to consider the distance to schools, shops and other amenities, Josh recommends thinking practically about how you'll access these places on a daily basis. "Modern housing estates tend to be a lot more linked with the existing urban fabric, which is a really good thing, because it means that newer developments are integrated effectively with the existing fabric of towns and city edges," he says.
"The difference between being able to walk to school every day and having to drive to school every day is huge in terms of quality of life. Being close to public transport hubs is also crucial because it just means that children can have a bit more freedom when they get a little older and it doesn't have to be cars, lifts all the time.
"Even the idea of having a local shop within walking distance is really crucial. As children grow up, you want to be able to walk to the shop and buy bread or whatever, as opposed to having to hop in the car. It increases the connectivity."
Source: Shutterstock
3 long-lasting design ideas for your new family home
Once you've found the perfect home for you and your family, you'll want to make it a space that works for you for more than just a year or two. Below, interior designer Amy McCormack of Simply Design Interiors shared some ideas to get you started…
1. Create different zones
If your new home has an open plan area, a good way to make it even more functional is by creating different zones, says Amy. "I was always recommended, if there's room, to get some sort of built-in unit and put it further down from the kitchen and in the living area. You can have your TV on it if you want, or you can have storage for toys. It's functional, but yet still stylish."
2. Opt for flexible storage
You can make sure your living area keeps working for your family as they grow by investing in flexible storage from the start. "What I generally recommend instead of getting bespoke storage in the playroom is buying storage from IKEA," says Amy. "Having three little girls myself, I know that the size of toys change over time. You can go from big plastic toys to smaller Barbies in just a few years, and you need to accommodate all of that. With the Kallax units at IKEA, you can change them into drawers and not just units."
3. Make dining spaces multi-functional
Whether your dining area has a centre island, dining table or both, Amy recommends making the most of the space you have available by ensuring it's suitable for more than just sitting down at mealtime. "I always recommend getting a decent sized island," she says. "That way, everything can happen on and around it. You can be cooking dinner while they're doing their homework.
"I'd also highly recommend getting a glass top to protect the dining table. The kids can whip out the paints and it just wipes off, or you can put a hot pot on the table directly and it won't have any impact. And, with the glass top, you can still see the full table without having the worry of it being chipped or stained."